What is SafeAssign and How Does it Work?
One question that students commonly ask is: Does SafeAssign Check Previously Submitted Papers?
Let's start with what safeassign is:
SafeAssign is a service that prevents plagiarism. It assists educators in stopping plagiarism by discovering content that lacks originality in student papers.
Besides serving as plagiarism prevention software, it also has features that educate students on the significance of proper attribution of any borrowed content.
SafeAssign depends on a one-of-a-kind text-matching algorithm that can detect exact and inaccurate matches between source material and a paper. Several diverse databases are used to compare the SafeAssignments. They comprise:
Internet: Exhaustive index of text files available for public access on the web.
Archives of Institutional Documents: Comprises all documents that users in their corresponding institutions have submitted to SafeAssign.
Global Reference Database: Comprises documents that have been voluntarily submitted by students from Blackboard institutions to stop cross-institutional plagiarism.
ProQuest ABI/Inform database: Has not less than 1,100 publication titles and approximately 2.6 million articles since the 1990s to date, updated once a week.
The Global Reference Database is a distinct database where scholars voluntarily donate copies to aid in stopping plagiarism.
It's separated from the inner database of every institution where all documents are stored.
Students can choose the option to inspect their documents without submitting them to the Global Reference Database.
Scholars submit their documents voluntarily to the database and assent not to erase the documents in future.
Also check: Can Canvas Detect Cheating?
The submissions to the Global Reference Database contain additional copies that are voluntarily made available to stop plagiarism.
SafeAssign claims no possession of any submitted documents.
After processing the document, a report is made available showing the text percentage in the submitted document that corresponds to existing sources.
It also indicates the supposed sources of every piece of the submitted document that returns a match.
Teachers can erase matching sources from the report and process it once more.
This can be helpful if the document is a continuation of work that's previously submitted by the same scholar.
Since SafeAssign establishes all corresponding text blocks, it's crucial to read the report cautiously and scrutinize whether or not the text block is properly attributed.
Sentence corresponding scores give the percentage likelihood that the two phrases will have a similar meaning.
This number can also be translated as the probability's reciprocal that these 2 phrases are the same.
For instance, a 90% score implies that there's a 90% chance that the 2 phrases are similar and a 10% possibility that they're the same.
The general score shows the percentage of the submitted document that corresponds to the existing sources.
This rating is a warning pointer only and documents should be reviewed to check if the matches are ascribed properly.
These documents comprise several quotes and some commonly used phrases or text blocks that correspond to the document.
These documents comprise extensive quoted or paraphrased material or plagiarism.
There's a very high likelihood that the text in this document has been replicated from other sources.
---
Does SafeAssign Check Previously Submitted Papers?
Safeassign can check documents that have previously been submitted. The blackboard platform which safeassign uses has a repository which saves all previously submitted papers.
The members of the faculty can set up SafeAssignments in their courses on SafeAsign and allow scholars to submit documents to finish these assignments, much like the Blackboard Learning System's assignment tool provided.
Kindly ensure you hire a reputable homework help company that submit 100% plagiarism free papers.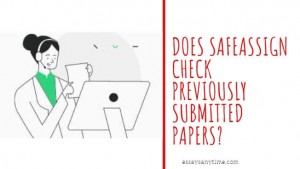 The documents are then sent to faculty members via the Blackboard Learning System along with SafeAssign Originality Reports detailing the results of the matching procedure.
A SafeAssign Originality Report emphasizes all text blocks are submitted and that they correspond to reference sources, and connect back to the corresponding papers on the internet or in supported databases.
The SafeAssign Originality Reports also indicate similarity scores for every corresponding sentence and allows the members of the faculty to show a line-by-line equivalence of potentially unoriginal content from submitted documents and the corresponding external documents
The document's archive submitted by scholars in your institution is the Institutional database. The institutional database of every institution is stowed in the mid-SafeAssign service and is stored separately from other databases of institutions.
Documents are added automatically to this database on submission and are stowed in the central service to be examined with other papers submitted by your institution.
---
Does SafeAssign Check Chegg?
Safeassign does check Chegg. Using Chegg can get you in a dangerous situation with your college if faced with plagiarism. If you copy the solutions provided by Chegg, you'll most probably present work that's plagiarized. Most of Chegg's responses are neither cited nor credited to the original author.
Kindly ensure you hire a reputable homework help company that submit 100% plagiarism free papers that are properly cited and credit given whenever outside sources are used.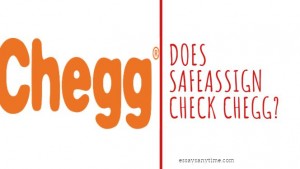 Learning how to stop plagiarism is an intelligent way to use a plagiarism checker to verify that you have provided all the required citations and included all your sources.
Professors and students use an online plagiarism checker as one way to resolute that an article is original and that all sources are cited.
If you access this plagiarism checker, you have a choice to upload your paper or copy and paste it into the plagiarism tool.
The other thing you do is choose the menu option to examine your document for plagiarism and then sit back and await your report.
Also check: Can Google Classroom Detect Cheating?
If there are passages that have matching texts, the plagiarism checker marks them for your review and provides you with the appropriate source or sources so that you may have all the data you need to come to an informed judgment on what you shall do next.
---
What is the Acceptable Percentage When Using SafeAssign?
The most acceptable percentage, if you're using SafeAssign, is a similarity report of between 15 to 40 percent. A SafeAssign Similarity Report gives comprehensive information about the correspondence found between your submitted document and the existing sources.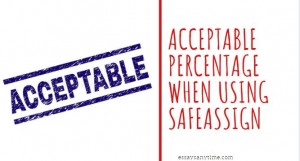 Both teachers and scholars can use the report to survey submitted assignments for originality and provide opportunities to determine how to suitably ascribe sources instead of paraphrasing.
When teachers produce an assessment, they ascertain if the student can see the results of the report.
Teachers and students need to ascertain if the corresponding text is referenced correctly.
By checking every match, recognition errors due to diverse citation standards are avoided.
The Originality Report shows the list of possible sources, and every source is emphasized in a distinct color.
The report can show up to 30 colors to portray 30 diverse sources.
SafeAssign creates an originality report quickly after a scholar submits an attempt, even before you post grades.
The Originality Report is displayed next to the submission so you can see the analysis in context.
SafeAssign has an accuracy of between 92% and 97% in detecting plagiarism and is, therefore, efficient enough in discovering copying.
---
Does SafeAssign Check Images or Pictures?
SafeAssign backs only file types that can be transformed into plain text. These file types comprise DOC, PPTX, TXT, RTF, HTML, ODT, DOCX, PDF, and HTM. However, SafeAssign doesn't support spreadsheet files.
Also check: Does turnitin check images?
It also supports ZIP files and procedure files that correspond to any of these types of files.
In a submission, SafeAssign enumerates and shows the total number of attachments and also the attachments number SafeAssign processes.
SafeAssign only processes and produces Originality Reports for attachments that correspond to the supported file types.
The SafeAssign Originality Report leaves out a matching score for unsupported file types.
It's also strongly suggested that scholars and teachers name papers submitted to SafeAssignment using only the period, alphanumeric characteristics, the hyphen, and the underscore.
For instance; NetID.final. Paper.doc or group2.assignment3.report.pdf
The use of space/blank characters, diacritical marks, citation marks, percent signs, and other unique characters should particularly be avoided when specifying documents for SafeAssignments and for many other Web-based or computing applications.
SafeAssign accepts any type of file as an attachment to submission but doesn't check images or pictures. It will only process and produce an Originality Report for attachments that have file types that are compatible.
Final Thoughts 
So, Does SafeAssign Check Previously Submitted Papers? Safeassign does check previously completed papers as it safes all papers submitted in a database. 
When checking for originality they run papers through the internet and their own database. 
So avoid any temptation to submit any previously completed papers. 
Watch the video to learn how to interpret safe-assign scores