What is canvas?
Canvas is an online learning management system that facilitates learning away from the school infrastructure. It is mostly used by institutions of higher learning.
Canvas allows the learner to gain access to course materials, assignments, announcements and tests.
The system is designed with comprehensive and integrated tools that feature assessment tools, communication and collaboration tools, course development and management tools, and content creation and management tools.
The tools are used to support learning through interactive virtual classrooms, and dynamic or structured learning pathways.
The instructor uploads course content, assignments and tests online. The students then use their passwords to access and download the content.
The instructor has full control of the learning management system and dictates what the students need to do.
Canvas offers the option of group discussions, centralized emails in case there are any queries and chat rooms for live discussions between the students and instructors.
The method used by the instructor to handle online classes depends on the complexity of the subject.
A complex subject requires more face time, as opposed to simpler subjects which can be taught in the form of assignments and discussions.
The environment is always changing and you can expect different techniques and tools to be used each time you join a class. It is just like a normal classroom, the only difference being the classes are virtual.
---
How does canvas work?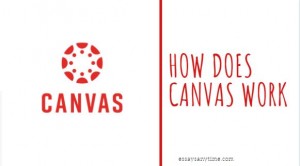 For you to use canvas, you have to download the newest version of supported browsers.
Integrate your browser with a flash plugin. Canvas can be accessed easily using Chrome or Firefox.
The flash plugin is necessary for recording, streaming, viewing and uploading courses and assignments.
The minimum hardware requirements include an operating system, a computer with 1GB of RAM and 2GHZ processor.
There are canvas mobile applications available if you don't have access to a computer. A minimum of 512kbps internet speed is required for smooth operation.
If you have the above requirements, log in to your canvas account.
Most schools create a profile for their students. You are only required to log in using your credentials and the password you choose during setup.
After you have successfully logged in, click on notifications and change how you receive announcements, emails, messages, discussions, and grades.
The canvas dashboard shows you all the courses you are enrolled in and their progress. Each course is represented by its own course card.
Beneath the card, there are announcement, discussion, and files tabs. Still, at the dashboard on your right, you can view your grades for the various courses selected.
Also see: How to cheat Urkund
To have a look at your course syllabus, click on the syllabus at the side menu. You will see the coursework available, along with information about your class from your instructor.
You can download the work in the form of a PDF or word document. Further down the page, you will be able to see assignments and their date of submission.
Once you are done with your assignments, upload them directly in the canvas platform.
Exams are administered directly in canvas, and the instructor may choose to invigilate the students through video conferencing.
It is important to note that you can only register and join a class only when it has started.
To successfully navigate canvas, take a canvas orientation, dedicate your time in learning by participating actively, and make sure you save and keep your documents.
Ask for help in case you encounter a problem.
---
How does canvas detect cheating?
Canvas can detect cheating through an inbuilt plagiarism checker. Canvas uses the unicheck plagiarism checker to check all assignments and answers submitted. All assignments submitted in canvas are automatically checked for plagiarism using unicheck.
Being a learning management system, canvas has incorporated a top-of-the-range plagiarism checker to ensure students do not upload plagiarized papers.
Unicheck is built in the canvas system to automatically check papers for plagiarism when submitted.
As soon as you upload a paper you be able to see a plagiarism report which will also be sent to your instructor.
Depending with policies of the university, you may be allowed to remove the plagiarized parts of the paper.
However, in some instances, the paper will be submitted for marking as it is and your instructor will then decide the next course of action to take.
---
Can canvas detect cheating?
Canva can detect cheating if you copy your assignment or answers directly from the internet . Canvas uses the unicheck plagiarism checker to automatically check all papers submitted. Cheating in college can get you suspended or expelled.
---
How to cheat canvas
First, it is important to note that canvas has a way of tracking cheating. Instructors have access to a quiz log.
The quiz log indicates when you have stopped viewing the exam or opened another tab to search for answers. The video conferencing too helps the instructor monitor your behavior during the exam.
Assignments submitted should also be plagiarism-free. However, it is possible to cheat canvas. Here are a few tips;
How to cheat a canvas exam. Can you cheat a canvas test?
You can cheat a canvas exam or test by using a phone to search for answers, creating a document with possible answers and opening it during the exam, connect with your friend and exploit the 30 seconds window to search for answers.
Create a word document before starting an exam
Create a word document containing useful information and tips in your course area.
When you start the exam, open the word document next to the browser and consistently refer to it.
Canvas only detects activities on your web browser.
Any other activity outside the web browser cannot be included in the quiz log. To ensure that the word document is helpful, research well on the expected questions.
Use your phone to search for answers
Another way of cheating canvas is by using your phone to search for answers.
Before you start the exam, place your phone near your laptop for convenience. Since the system only detects the activities happening on the canvas platform, they will not know whether you are using a phone.
This makes it an easy option. Video conferencing cannot capture the whole surrounding. Most webcams capture only the upper part of your body only.
Placing your phone on the laptop and pretending to type your answers while searching on your phones works remarkably.
If you have installed a custom browser on your computer, then you can take an exam with your friend.
A custom browser helps you connect with your friend, without being detected by the system. This is achieved through screen sharing.
The normal browsers will show if you open another tab, by becoming inactive in the canvas tab. With a custom browser, the system only records the canvas tab.
This way, you and your friend can study for the exam and exchange notes while still tackling the exam.
Dealing with exam proctoring
Exam proctoring is when the instructor actively invigilates the exam through video conferencing.
This makes it hard for students to do anything else other than sitting for the exam.
To beat exam proctoring, write down your notes on a piece of paper and place it near your computer or laptop. The piece of paper should be small.
The content should be precise and summative. This way, you will refer to the important notes which will help you pass the exam.
Also see: Can you cheat an online proctored exam?
Exploit the 30 seconds window
The canvas system' quiz log shows that you have stopped viewing the exam. Instructors use this to justify cheating. However, as it is the case with most systems, the system refreshes.
Although the refreshing time is small, 30 seconds top, you can use this opportunity to quickly search for an answer. Do not do this consistently because the system will record this in the quiz log and you may end up being disqualified.
The canvas system can't tell when you copy and paste. However, your lecturer can check whether the submitted work is plagiarized.
To avoid this, ensure that you first paraphrase the document, to make it original, and then copy and paste it in the canvas exam platform.
Plagiarizing is an exam irregularity and you will be disqualified automatically.
In some cases, the student may be in an area where the network is not strong enough. The exam process is interfered with regularly.
This is a perfect opportunity to refer to your notes or search for answers using your phone. You may be required to present some proof of network failure by your instructor.
Screenshot the webpage and present this as your evidence.
Cheating canvas exams is very difficult. The fact that you are racing against time to complete your exam makes it such an overwhelming task.
The above methods could work but they require extra caution. It is evident that there are no clear and simpler ways to cheat, and the chances of getting caught are high.
The only way to ensure you pass your exam is by preparing yourself in advance by reading and revising adequately.
You can also check out our post on whether google classroom can detect cheating 
---
How to cheat canvas assignments
Essentially, you can cheat canvas by hiring a writer, copying from a friend, using publications to complete your essay and having discussion groups to discuss assignments.
Hire a professional writer

The best way of ensuring that you present quality and original work is by hiring a professional essay writer.
A professional writer does an in-depth research, properly cites references and delivers the work on time.
The advantages of hiring one is that they are affordable and your work is warranted. The chances of you scoring higher grades are better when you pay a professional writer.
Your professor will not suspect anything.
Also see: Will My Instructor Tell If I Hired An Online Essay Writer?
There is no specific way of telling whether a student has copied assignment from another student.
Unless they copy the exact same thing. However, the students can copy from each other, and make the work look completely different.
They can do this through paraphrasing or restructuring the whole paper.
Many students copy work from their fellow students, especially from those that are smart, to ensure they get better grades.
Read more on whether paraphrasing is cheating 
Use existing publications to complete your assignment
College professors have strict measures that ensure assignments submitted by the students are original and well-researched.
However, discovering something new is difficult, and the only thing students can use is referring to existing publications. These can be found on the internet, library and journals.
According to some professors, this is cheating because the publications are work done by other people.
However, good grades are an important aspect of school and students use all the means necessary to achieve them, including using these resources.
This is a common way of cheating in assignments. The professor gives an assignment for the students to do individually, but they end up forming secret discussion groups to complete the work.
As long as the discussions remain secret, then this is an effective way of cheating and getting better grades.
Having more than one head is more productive and you save on some time to do other assignments.
It is very difficult to tell whether a student has cheated in their assignments.
This is because the assignments are not done on the canvas platform. The students complete their assignments and then submit later.
Therefore, the above methods are very efficient in cheating canvas and you score higher grades at the end of the term.
---
Can canvas detect copy-pasting?
Canvas is 100% able to detect copy-pasting. Using unicheck, canvas will flag all texts that are directly copied from the internet. A report will then be generated to show which parts of the paper are copy pasted and from which source.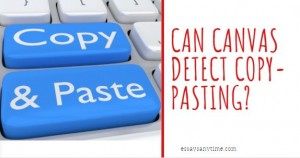 Many students use this method when they are submitting their work, and there have been no records of showing they did.
Make sure you submit original work that is done by you. If by any chance you are copying from a source, edit or paraphrase the document to make it original.
You can copy-paste an existing document on your computer, to give you extra time to tackle the rest of the questions.
Does canvas know if you copy-paste answers?
Canvas will know if you copy-paste answers in a quiz. Canvas has an inbuilt plagiarism checker that will flag anything that is copy-pasted from the world wide web. As such it is important to avoid copy pasting and paraphrase and give credit to the author.
When completing an exam, it is important to ensure that you use your words to answer the questions.
Copy pasting from websites like coursehero, quizlet among others will be flagged.
Please note that unicheck has access to all websites on the internet and will check your answer to find out if its original.
---
Can canvas detect open tabs?
Presently, canvas can detect open tabs by detecting the duration of time a user has been inactive. Canvas has a quiz log that detects when the user is inactive for too long.
The quiz logs indicate the duration of time the user has been inactive. Usually, the system records this if you are inactive for more than 30 seconds.
For example, if you leave the canvas tab and choose to listen to some music, the system will record you inactive. The instructors use this to prove exam irregularity.
However, there is no specific way of telling whether there are multiple tabs opened in your browser. This would go against the user's privacy.
The system only monitors the activities on the canvas platform. Any other activity is excluded.
---
Can canvas detect screen sharing?
Canvas cannot detect screen sharing. Like in the case of opening other tabs, screen sharing cannot be detected by the system. The canvas system only records the activities on the canvas system.
Any other activity you do is not detected.
Therefore, you can do screen sharing with your friend and help each other do the exam. Make sure you do not leave the canvas page for more than 30 seconds to avoid been rendered inactive.
---
Can canvas track your IP address?
The canvas system can track your IP address. The system automatically logs data sent to the various computers. Every computer has its unique IP address and it is easy to record where you are doing the exam from.
If you are planning on having someone do the exam for you, do not give them your login information, because the system will detect unusual account activity.
Only the admins have the privilege of knowing your IP address. However, if your instructor feels that you are cheating, they may use this to prove it.
---
Conclusion
In this blog post, our expert writer answers the questions: can canvas detect cheating, how does canvas detect cheating, does canvas detect copy and paste, can canvas tract your ip address among others.
Canvas has put in place measures to uphold academic integrity.
One of the ways it does this is by using a reputable plagiarism checker to check all answers and assignments submitted by students for plagiarism.
A report is then submitted to the instructor for further action.
As such, it is important to avoid copy-pasting and submit only original works.
Watch the video below and learn how to check plagiarism in canvas using unicheck