In August 2014, a web-based platform was launched as a tool to ease teachers work and make learning easier. Google has changed the learning sector by improving how teachers and learners interact. Teachers and students can get all they need in one platform, making everything easy for them.
Unlike the traditional methods of learning such as blackboards, Moodle, Schoology and canvas, Google classroom simplifies everything. Teachers have realized that they waste a lot of time, distributing assignments and quizzes or ensuring students are aware of them.
According to Google, the classroom is a web service that incorporates Google Sheets, Docs, Calendar, Slides and Gmail into one platform for learning management.
---
Reasons Why Google Classroom Was Introduced
Google Classroom was started for various reasons. These reasons include:
To keep students engaged
The platform allows learners to participate in learning activities through discussions. When a teacher asks a question, students can give their ideas through the comment section.
To remove paperwork
No one wants to be stuck with a pile of paperwork that takes ages to sort through. Classroom removes this hassle by ensuring that assignments are handled online. As long as you have internet, every piece of information can be shared with others virtually.
To expose students to online learning
Colleges and universities now require students to go through online learning before graduation. However, not everyone is exposed to online learning by the time they get to higher institutions. So as a way to prevent the "illiteracy" in most students, google introduced classroom.
Since its introduction, the platform has had various updates to make it better. Early this year, the platform introduced, Originality reports, rubrics and other mobile features.
The mobile features allow students to check their academic grades on their smartphones.
Also check: Does SafeAssign Check Previously Submitted Papers?
---
Can Google Classroom Detect Cheating?
Essentially, google classroom is able to to detect cheating but running the submitted work via a plagiarism checker. Google classroom detects any plagiarized content and provides a link to the source of the material.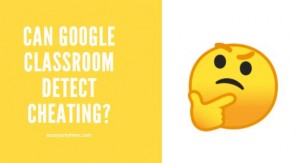 Among the many challenges that teachers face is whether their students are producing authentic work mainly with the various information available on the web pages.
Well, Google classroom recently introduced features that ensure students provide genuine work. One of this features is originality reports.
Originality report allows both students and teachers to counter check their work for both citations and originality.
When teachers run the students' assignments through google searches, the originality report compares every student's work against all the available information online. This includes books and a billion copies of data in web pages and databases.
The reports highlight any similarities and offer a link to the source. Any ineffective paraphrasing and missing citations are also highlighted.
As a student, you can run your assignments three times to check and correct any errors in the form of citations and unintended plagiarism.
Once they run the files, they will receive a report of what it plagiarized. A student can change all these before submission.
The other feature is Google Foam. The feature locks students on an assignment preventing them from browsing the internet for answers.
---
How to Beat Google Classroom Plagiarism Checker?
Essentially, you can beat/cheat google classroom by hiring a professional essay writer, paraphrasing plagiarized content and translating from content from another language to English.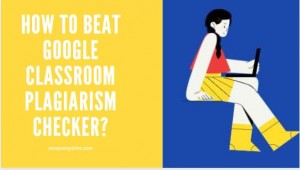 Google classroom, features have made it hard for students to cheat. Before students submit their assignments, the plagiarism checker highlights any similarities which the teachers see even before reading them.
However, is there really a way you can beat the plagiarism checker on google classroom? Many students have asked this, and the answer is yes. The ways to beat plagiarism checker are;
Hire an Essay Writer
One of the easiest ways to beat Google plagiarism checker is hiring essay writing service for college. Essay writers are professionals who are experienced in producing high quality and error-free content. An essay writer produces content that is plagiarism-free.
Also see: Is it wrong to pay essay writing companies to do your work?
Paraphrasing
Paraphrasing is an easy method to cheat a google classroom plagiarism checker. The plagiarism checker checks how sentences and paragraphs are structured. However, you have to be keen and add the in-text citation.
Sometimes paraphrasing may be tiresome, or you may end up not paraphrasing correctly. One of the ways to avoid that is using paraphrasing tools. However, not all paraphrasing tools are full proof, you to manually correct the mistakes before submitting the final paper.
Translation
You can interpret a material that is written in a different language to English. But this doesn't mean you should copy everything words for word. Just be creative in how you translate the materials in English.
Also see: Is using google translate cheating in college
---
Does Google Classroom Plagiarism Checker Check Pdfs?
Yes. The plagiarism checker on google checks for similarities in a document against the information available on web pages.
---
Does Google Classroom Plagiarism Checker Check Images?
No. Google classroom only highlights similarity in the form of texts.
Also see: Does turnitin check images? 
---
Does Google Classroom Plagiarism Checker Check PPT Files?
Yes. Google classroom uses unicheck to check plagiarism and unicheck is able to check PPT files and included speaker notes for similarity.
---
---
Bottom line
Google classroom is a great platform that has managed to change how education is delivered in the classroom. Among the many ways that it has changed leaning is through ensuring that there is honesty.
Students and teachers can check for any form of cheating using the google classroom. Google classroom has features such as originality report that detects plagiarism and google foams that lock students in the assignment, ensuring they don't copy information from the web pages.
However, like any other plagiarism checker, you can find ways of beating it. The ways include using translation, paraphrasing  and hiring a cheap reliable essay writing service.
Watch the video below on how to set up google classroom and some of its features.