Google translate is Google's multilingual translation machine which was launched in the year 2006. It is a free service that google users use to translate from one language to another.
The service is able to translate text, speech and even text from images.
It is estimated that close to 500 million people use the service daily to translate between the over 109 languages available.
According to research, close to 95% of students, particularly ESL (English as a Second Language) students use Google's machine translation at some point during their academic life.
According to the survey, most students use Google Translate to know the meaning of unknown words, complete assignments and reading text.
In this blog, we answer a commonly asked question: is using google translate cheating? 
So is using google translate cheating?
Ideally, using google translate to complete assignments is not cheating if the work being translated is only to be used for research purposes. However, if you pass the translated work as your own work, then that is considered to be plagiarism .
Using GT is not cheating. Think of it as a starting point or an aid to help you complete your work.
For example, if you have five pages source to translate, you can translate the entire text on Google translate to get a general idea of what is entailed in the text.
You do not have to do all the work of translating every word. In essence, it is a way of working smart because you save on time and energy.
After the translation process, edit the whole document from scratch because not all the words are translated correctly.
Through editing, you also get to enhance the general flow of the text in such a way that it does not look machine-generated.
Most of the work assigned in college require students to use tools and references to help them accomplish the task.
Therefore, using Google translate to aid in the translation of a source to be used for referencing is not cheating.
However, if you edit the text and make the work look and feel like your own then that is cheating as that is not your own work and no credit has given to the original author.
If you need a plagiarism paper with proper sources written from scratch see our cheap homework services
Some assignments are hard to understand and require high-level knowledge.
Imagine working on an assignment written in Spanish, and you have no idea where to start.
Google translate helps you translate the text to any language of your choosing, enabling you to complete the assignment, and then translating the resulting document to Spanish.
You get to accomplish your work without the hassle of learning a different language. This, by far, is not cheating.
---
Can Turnitin detect Google translate?
Essentially, turnitin can detect google translate by translating text written in another language to English then comparing it to material from its database.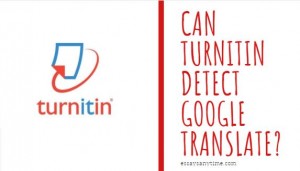 Turnitin has an automated translation technology that is used to detect plagiarized text that has been translated from another language to English.
It can take assignments written in other languages and translate them to English, where it then compares it to its database.
In case the results match an existing document in the database, it is highlighted and included in the final report.
The technology works in many languages like French, Swedish, Spanish, German, Czech, Italian, and so much more.
Like earlier mentioned, automated translation technology only works when the text is translated from another language to English and not the vice versa.
Therefore it is hard to detect a translated text from English to another language.
Also see: what turnitin checks and does not check 
It is important to note that Google translate is not grammar oriented, so the text generated needs thorough editing.
As a precaution, you must paraphrase the whole text to reduce the degree of plagiarism, before you submit the assignment in Turnitin.
---
Can Safeassign detect Google translate?
Ideally, safeassign cannot be able to detect google translate as it does not feature an automated translation technology to translate form one language to another.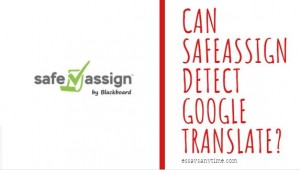 Safeassign cannot detect Google translate because the translated text is not identical to the original text.
Safeassign plagiarism detection tools use existing resources, in the same language, to determine whether the submitted work is authentic.
When it comes to Google translate, two or more languages come into play.
Since different languages use different texts, it is impossible to detect plagiarism.
There has been a lot of effort geared towards developing a tool that can detect translation plagiarism, but the results are unconvincing.
Mostly, existing tools only generate text that is easily understood, but they cannot identify exact matches between the documents under scrutiny.
Also see: Does safeassign check previously submitted papers? 
Safeassign does not have automated translation technology, and it only uses algorithms that compare texts that are specific to the English language.
It does not support other languages, but it offers a translation tool that translates text from one language to the other and compares the text with existing resources on the web.
There is no specific way of telling whether a document has been translated from another language because text formats differ from one language to the other.
Additionally, Google translate rewrites the entire text in a way that it is different from the original one.
The Safeassign system has to be able to interpret the text and create an exact match to the original one, which is impossible.
Safeassign may not have the capability of detecting Google translate, but your tutor can.
To avoid getting caught after using Google translate, paraphrase your work, and use correct formatting.
---
Can teachers tell when you have used Google translate?
Yes, teachers/instructors can be able to tell if you used google translate because google translate is not grammar oriented and the translated text may look different from your style of writing.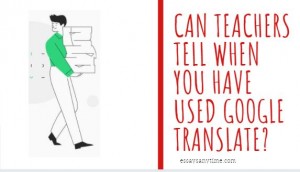 Some teachers can tell you have used Google translate, while others can't. Let's take a look at both scenarios.
First, a teacher may discover you have used Google translate, especially if he/she has years of experience in the teaching industry.
This is because Google translate uses stiff translations that may look different from your style of writing.
Additionally, Google translate is not grammar-oriented, and only translates word for word, without any particular flow.
If you copy and submit the work directly from the translator, the grammar and flow of some parts of the text will be incorrect. This way, the teacher will know you used Google translate.
On the other hand, a teacher cannot tell you have used Google translate if you edit the whole document from scratch after translating.
First, you ensure every word has been translated correctly, and then write from scratch, to ensure the text has a good flow.
Also, ensure the key idea remains intact. Submitting work that is out of context is an easy way of identifying copied work.
If you follow these steps, your teacher will have no clue that you used Google translate to complete your assignment.
---
How not to get caught using Google translate
Essentially, if you don't want to get caught using google translate, translate the text first, then paraphrase the text into your own words and finally proofread to ensure the text flows logically.
If you are looking to reduce the workload of translating (especially searching for the meaning of every word) and save on much needed time, then Google translate is the way to go.
It is an excellent platform that translates over 108 languages. However, some teachers consider using Google translate as cheating, and if you get caught, there are consequences.
To avoid getting caught using Google translate, try out the following tricks;
First, translate the entire text using Google translate. After that, skim through the document to look for words that are out of context, and replace them. Reading through the text also ensures that you understand the main idea, thus making the work easier while you paraphrase. In some cases, Google translate may alter the key idea (by changing the meaning of a sentence). It is easily identifiable as you read through the text because the sentence is most likely to be off-topic. Change it accordingly. Some words also have more than one meaning, and it is your responsibility to choose the right term that fits in the context.
Secondly, paraphrase the text in your own words. It is a crucial step because paraphrasing makes the entire work to look like your own. It also brings about a strong cohesion among your sentences and improves the overall flow of the text. The translated text, more often than not, has grammatical errors. Therefore, during the paraphrasing phase, ensure you use the correct format and grammar.
Finally, after paraphrasing, proofread the text to correct any spelling mistakes, punctuation and grammatical errors.
If you carefully follow the above steps, your tutor will have no idea that you used Google translate. Only use Google translate as an aid, and ensure you do most of the work (mostly editing).
Also see: is paraphrasing is cheating?  
Final thoughts
Is using google translate cheating. If properly used for instance for studying and understanding a foreign language – using google translate is not cheating.
Watch the video below to learn how to use google translate