In one way or another, we have found ourselves paraphrasing. However, one question that always lingers in the back of our minds is: is paraphrasing cheating?
In this blog, we seek answers to this question.
---
What is paraphrasing? 
Paraphrasing is changing or rewriting a text in your own words. The result should not alter the meaning of the main ideas from the source.
In academic writing, paraphrasing can be described as  an interpretation or explanation of someone's else ideas. Many students use paraphrasing as an alternative of quoting hopefully giving the author credit.
On the other hand, other students use paraphrasing tools to try and beat the online plagiarism checkers. This begs the question:  is paraphrasing cheating?
When do you paraphrase?
The main goal of paraphrasing is to avoid plagiarism. Putting down information in theses, articles and essays without citation is plagiarism.
Paraphrasing is, therefore, used to turn an existing document, into an original one. Although the idea transmitted is not original, the writing is.
Plagiarism checking tools only check the originality of the writing.
In some cases, a person may write an essay, but the main ideas are not well described. Paraphrasing helps in describing the main ideas vividly, in such a way that the reader has an easy time understanding them.
Consider the following points when paraphrasing;
Do not change all the sentences. It works better when you focus on the whole text.
Note down the main ideas from the source text. After that, use your own words to describe them.
Adding more information on the source text makes your work complex and hard to understand. Cover only what is in the original text.
Paraphrasing is a skill and it requires high-level language skills and dedication. You must also be an expert in the subject area. This way, you will have an easy time using alternative terms.
For example, if you are medical practitioner, and you are paraphrasing a document on communicable diseases, chances are that you will paraphrase better than someone who isn't.
Not all students are good at paraphrasing, as is the case with foreign students. To ease their work there are two ways of paraphrasing they can try out.
First, there are paraphrasing tools available online. These tools can paraphrase a whole document for you.
However, make sure you read the final document to correct some of the mistakes, in case there are any, in the document.
Secondly, hire a professional paraphrasing service online. These platforms have professional translators who have years of experience in the language domain. They offer their services at reasonable prices.
---
Is paraphrasing cheating?
Paraphrasing is taking someone else's idea and putting it down in your own words. For this reason, it has grabbed the attention of many people in academic institutions who feel that it is a way of cheating. There are two scenarios which arise when you paraphrase.
Paraphrasing and citing the original text is not cheating, and it cannot be considered plagiarism. The second scenario is paraphrasing a text and omitting citation. It is cheating because the original ideas do not belong to you, and you have not attributed them to the original owner.
Why paraphrase while you can pay someone to write your research paper?
---
Why is paraphrasing considered cheating?
The main reason why paraphrasing is considered cheating is that someone's work is being used without the author being given credit or without the consent of the author. This means that the main ideas are not original.
If you paraphrase an existing document and fail to cite your source, then that is cheating. A student may successfully paraphrase someone's work, in such a way that plagiarism checking tools show the document is original.
However, in real sense the work is plagiarized. Some lecturers are experienced and have read and researched a lot and therefore, they can tell where the paraphrased text came from.
Even though your paper passes plagiarism checks, the key ideas are not, and some professors can easily detect this.
Consequently, your work is rejected, and you may even get suspended. Plagiarizing is a copyright infringement and can lead to imprisonment or huge fines.
One of the main agendas of schooling is blending an innovative student. When a professor gives an assignment on a particular subject, e.g. ways of sustaining our environment, they expect you to research and come up with new ways of doing so.
They are trying to widen your way of thinking and solving issues. Therefore, if you get such an assignment, and you end up using an already existing text to complete your work, then that is cheating.
By paraphrasing, the student fails to do their research well, and this stalls their academic development. The student cheats through their entire stay at the school.
Also see: Is Cheating Bad In College?
The best way to avoid the temptations of cheating through paraphrasing is through dedication to your schoolwork.
Achieve it by attending classes, doing in-depth researches (in the school library, web searches and community-based interviews), consulting with your professor if you get stuck and citing your sources accordingly.
It is not cheating if you only use your work and ideas to complete your assignment. Yes, it is possible to come up with new ideas.
There is a significant percentage of the universe that is still unknown to man. It is also not cheating when you put some of the words in quotes and cite the source.
There is a thin line between paraphrasing properly and improperly (i.e. Plagiarizing). The latter is a violation of writing ethics.
One thing is for sure though, paraphrasing has been there for a long time now, and it is something we have to deal with every day.
It is, therefore, good culture to learn paraphrasing techniques to avoid the embarrassment of being caught plagiarizing and cheating.
---
Is using a paraphrasing tool considered cheating?
Yes using a paraphrasing tool is considered cheating in institutions of higher leaning. This is because paraphrasing tools do not cite the original authors of the work being paraphrased.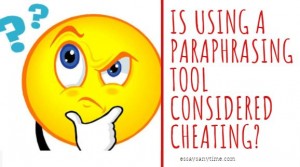 There are several reasons why people use paraphrasing tools. They are easy to use, most of them are free, they are useful to people who wish to write in other languages (especially foreign students), and they save on time.
However, using a paraphrasing tool is considered cheating in institutions of higher learning. Why?
First, paraphrasing tool can alter the structure, wording and punctuation of a paragraph or an entire essay. Such a tool encourages students to rely on generated output instead of writing the assignments themselves.
For this reason, they are unable to learn paraphrasing techniques. Even if the students cite at the end of the text, it is cheating because the students will be awarded grades for work they have not done.
Secondly, the tool will paraphrase your text, but not cite the sources. Failure to cite the source insinuates that the work is yours whereas it belongs to someone else.
It is cheating because the final document will not be attributed to the original author.
There is also an instance where using a paraphrasing tool may not be considered cheating. It is when you use the paraphrasing tool and cite your sources at the end of the text.
As long as the original text and ideas do not belong to you, you must cite the sources. Proofread your text to ensure your instructor does not suspect the use of a paraphrasing tool.
Note: paraphrasing tools promise to make student's work easier. It's a fact that they do. However, the generated output contains many errors.
It is important to reread the text to correct the punctuation and grammatical errors. Additionally, they replace some word with synonyms which have a slightly different meaning from the one intended by the original author.
You end up transmitting a completely different message and falling out of context. Learning paraphrasing skills and doing it yourself works better.
---
How can I paraphrase an assignment without plagiarism?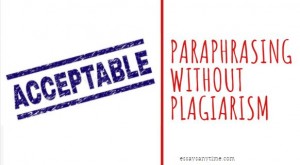 Paraphrasing is not an easy task because it requires high-level language knowledge. You should be good at changing word order, using synonyms and changing the sentencing structures.
The main idea should remain intact. You may paraphrase your essay excellently but fall out of context.
The following techniques will help you paraphrase without plagiarizing your essay;
Read the original text a couple of times. It helps you grasp the main ideas in the text and have a better understanding.
Write down the main ideas on a different paper or word document and close the original one.
Describe these ideas in your own words, under no circumstances should you refer to the original text. By doing this, you can use your wording and sentence structures. It also ensures that your voice is dominant throughout your work. This technique improves your recalling capacity.
Compare the new text with the original one. By doing this, you will know whether you transmitted the information appropriately.
Reread your work several times to ensure there are no misinterpreted ideas. In case there are similar parts of the test with the original one, change the wording and the sentence structure.
Cite your source appropriately. Failure to cite is plagiarism.
Quotes decrease the readability of your work because the reader gets confused when reading. Too much quotation may render your text plagiarized as it shows the main ideas are based on someone else's work. Only use quotes when you are supporting your argument.
The above techniques are mandatory if you wish to avoid plagiarism. Use synonyms that have the exact meaning of the words you are replacing.
Additionally, it will you do you no harm to run your text through a plagiarism checker. It ensures that your work is original.
---
Can Turnitin detect paraphrasing?
At the moment, turnitin is not able to detect paraphrasing it done correctly. However, make sure all the material used when paraphrasing is cited accordingly. 
There is this common misconception that Turnitin can detect paraphrasing. Turnitin is not able to detect paraphrasing. So, how does it work? Turnitin is built-in with a comparison database consisting of;
Students' essays submitted to Turnitin.
Books, journals and newspapers. These are acquired through collaboration with library databases, publishers and digital reference collections.
Web content available for the public.
With the above sources, Turnitin only creates a similarity report. The report shows the degree of similarity between the essay submitted by the student and the sources within the database.
It uses an algorithm that detects strings of words that are similar to those in the database. In case there are similarities, the Turnitin system indicates this in its report, and only the instructor can determine whether the assignment has plagiarism.
Therefore, Turnitin cannot detect plagiarized incidents, nor can it prove whether the student has not plagiarized.
Also see: What turnitin detects and doesn't
As a student, you can do your authenticity check. First, submit your draft assignment before the date of submission. The system conducts an originality check and gives a similarity degree.
If your essay is similar to another source, you can withdraw it and make the necessary changes. You can then submit the final version on the day of submission.
---
Can unicheck detect paraphrasing?
Just like turnitin, unicheck cannot be able to detect paraphrasing. This is because the plagiarism checker only runs the a students paper via web sources and their own database consisting of other students previously submitted works. As such, a student who has carefully paraphrased their work cannot be flagged by unicheck for plagiarism.
Also see: Learn how to beat Unicheck- 6 Proven Ways
However, be careful, as stated above some professors having read widely can tell when you use a source and fail to cite the author.
As such you are much saver ordering a custom written research paper that has been properly cited.
---
Can safeassign detect paraphrasing?
Safeassign cannot be able to detect paraphrasing. This is because the plagiarism checker has no way establishing whether the ideas presented on your paper are your own.
The tool will just run your paper and check for similarity from web sources and other students previously submitted papers.
Also check: Can safeassign detect previously submitted papers? 
However, some instructors can be able to tell when you have not properly cited your work and you can flagged for plagiarism. To be safe hire someone to write your research paper. 
---
Final thoughts
Is paraphrasing cheating? We dig deep and find answers to this question.
If paraphrasing is properly done, it is not cheating. However, if done for the wrong reasons that it will be considered cheating
Watch the video below to learn how to perfect your paraphrasing skills