Essay writing is prevalent in today's world be it in school or business. It is an efficient way to discuss various subjects and delivering a verdict (usually from a personal point of view).
Many people struggle to write essays because they tend to be very structured and precise.
They require prior planning and coordination, to successfully convey the main idea.
If you are struggling to write a 7-page essay, and you need to improve your skills, keep reading and note the following important steps in essay writing.
---
General things to consider 
The first and most obvious thing is to research more about the type of essay you are writing. There are various types of essays including expository, persuasive, compare and contrast, argumentative, narrative and descriptive essays.
These are just a few, there are more. Knowing the type of essay you're writing will help you organize your grammar (conjunctions, adverbs, phrasal verbs, etc…) and structure.
The length of an essay varies from one writer to the other or the specified instructions provided by your instructor.
If you know the number of pages you'll write, you can plan your main ideas cohesively so that you can write the required amount of pages.
In this article, we are going to look at how to write a 7-page essay fast and effectively.
Let's now look at the main steps in writing a 7-page essay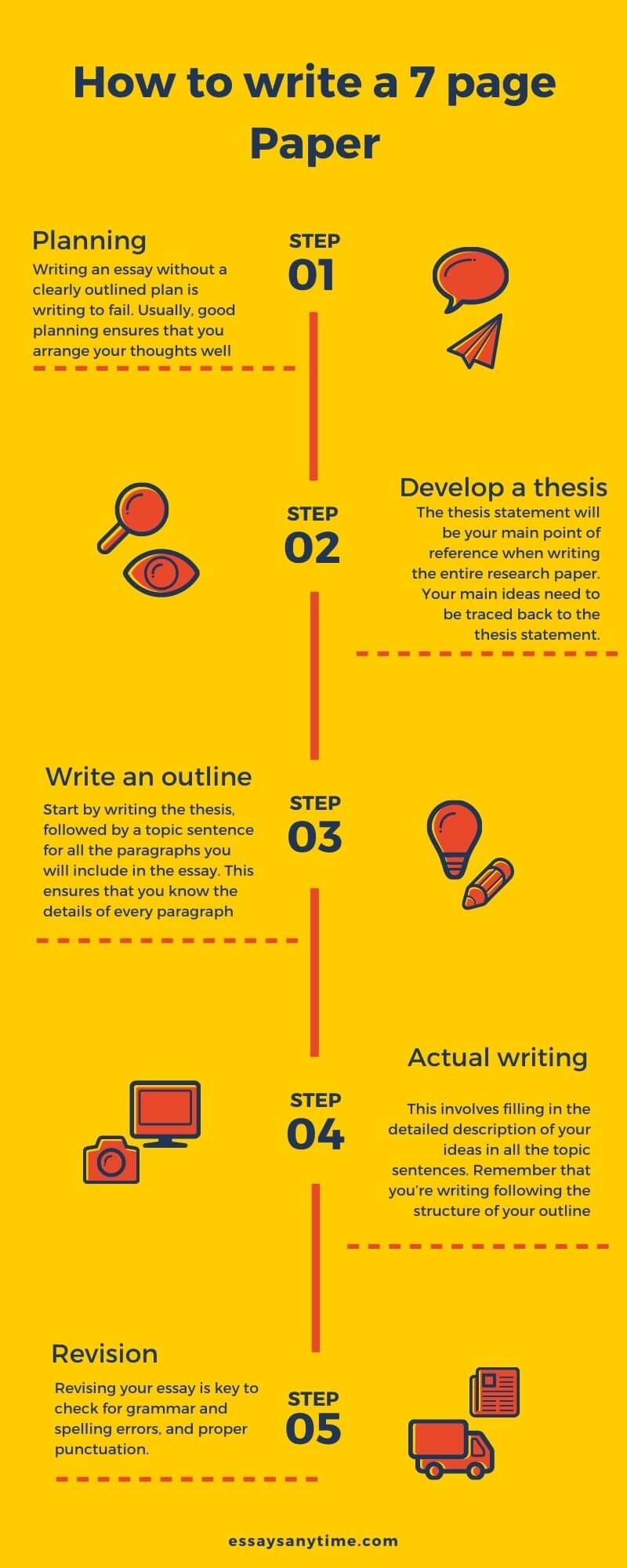 Planning
Writing an essay without a clearly outlined plan is writing to fail. Usually, good planning ensures that you arrange your thoughts well.
Consequently, when it comes to the actual writing, you will have a general idea of what the essay will look like.
The following tasks are included in the planning stage;
Brainstorming

This is the process of sitting down and writing down ideas that come to mind. It is practically impossible to write something that you haven't thought about. Here, you use the clustering method, where you write the main idea at the center of your paper and create clouds of ideas around it. The ideas will form the basis of your essay.

Pre-writing

Once you have brainstormed, you can choose the main ideas. The pre-writing involves taking these ideas and doing in-depth research about them. Each idea can be organized into a subtopic. You can use the library, online search engines, group discussions, and interviews to get detailed information about your ideas. A good essay is always well-researched.

Drafting:

Once you are done with your research, write down a rough copy of the whole essay. The draft piece is not necessarily accurate, but it is important because it ensures that your ideas are not lost in the process of writing.

Develop a thesis
Every essay has a thesis statement. It is often one sentence that clearly explains what the essay is talking about. The thesis statement will be your main point of reference when writing the entire research paper. Your main ideas need to be traced back to the thesis statement. Do not choose a thesis statement that is too wide and cannot be completed in one 7-page essay, or one that is too narrow in such a way that you do not clearly explain your points. Note that you should state your thesis in the introduction.
Also see: College Hacks for Freshmen
Write an outline
This involves writing a skeleton of the essay. Start by writing the thesis, followed by a topic sentence for all the paragraphs you will include in the essay. This ensures that you know the details of every paragraph. A good transition between the paragraphs is important, to allow a good flow of your essay. This way, the reader will not get confused when going through your piece.
Actual writing
This involves filling in the detailed description of your ideas in all the topic sentences. Remember that you're writing following the structure of your outline. In case you have forgotten about some of your ideas, refer to your draft piece. The flow of your essay needs to be cohesive, clear and easy to read. Make sure you have adequately supported your thesis. After writing, reread your essay to ensure that your subject is not out of context. Proper use of conjunctions and transition words is important to guarantee flow.
Revision
Revising your essay is key to check for grammar and spelling errors, and proper punctuation. You also make sure that all the parts of your essay work collaboratively. Reading and rereading is a sure way of correcting your mistakes. Also, you can ask your friend to read your essay and give you feedback.
Citations: citing your sources clearly and accurately is very important.
Publishing
It is the last stage of the essay writing process. It involves sharing the essay with your intended audience. The document should be error-free. The readers then give you feedback, whether positive or negative. This is why the key subject should be discussed clearly and intensively.
Also see; 5 ways Dumb Students Get Good Grades
---
How long is a 7 page paper?
A 7-page paper often has 3,500 words when using single space. However, when using double space, the word count will be approximately 1,750.
This is just an approximated value because the length of words varies.
A single page will have approximately 275 words when double-spaced and 550 words when single-spaced. It is also wise to inquire whether the words in the titles are inclusive.
---
How long does it take to write a 7 page paper?
This depends on whether you are writing from your thoughts, or doing in-depth research.
Typically, it should take a few hours to several days depending on the deadline set, duration of research, your typing speed, the spacing required, and whether you are doing it continuously without any kind of interruption.
---
How many sources should a 7-page paper have?
A 7-page paper should have around 10 sources.
Including too many sources for your work will mean that most of the ideas in the essay are based on the opinions of other people, rather than your own.
You should also check the prompt because many professors include the number of sources to be used in a research paper.
Also see: Is my source credible? 
---
Can I write a 7-page paper in one night?
Yes, you can write a 7-page paper in one night.
However, it is a difficult task and requires good planning and dedication.
Several factors come into play like the complexity of the subject, research options available, and your experience as a writer.
To help you stay awake and fresh, consider drinking a lot of water to stay hydrated, eat high-energy foods and take coffee.
I have analyzed the time taken by each section of the essay. The prewriting phase takes a huge chunk of the time (around 7 hours).
The brainstorming part takes a maximum of 2 hours, and since outlining is easy, it should take approximately 30 minutes.
The research takes around 4 hours and 30 minutes. However, this is just an approximation since you can be distracted or tiredness could slow you down.
The writing phase will take 3 hours.
The title and introductory section both take 30 minutes whereas the body 2 hours. 20 minutes are reserved for the conclusion.
The revision will only take 2 hours and 30 minutes.
Rewriting takes one hour, proofreading one hour and formatting takes around 30 minutes. The above times will see you finish the paper in just one night.
Concentration is valuable to achieving this milestone.
---
Can I write a 7-page paper in one day?
It's very possible to write a 7-page paper in one day.
The good thing about writing the paper during the day is that you wake up fresh and relaxed. It takes an average of one minute to type 5 words when writing an essay that requires you to do a lot of research.
A 7-page paper has around 3,500 words. This means that you can write the piece in 700 minutes. This translates to around 12 hours.
However, typing 5 words is too slow and it's just for parity. Below is an analysis of the amount of time taken to write each section;
Prewriting takes around 5 hours. Brainstorming, outlining, and research take 2 hours, 30 minutes and 2 hours, and 30 minutes respectively.
The writing phase takes 3 hours with the title and introduction taking 30 minutes, the body 2 hours, and the conclusion 30 minutes.
Since revision is crucial, you allocate it 3 hours.
However, some people are very good at writing essays, and some can take as little as 5 hours to complete a 7-page paper.
To reach this level of expertise, you need to have a high typing speed and good research skills.
Conclusion
With just the right level of concentration and language skills, essay writing can be an easy task written in just the right amount of time. It requires practice and dedication. The above information is adequate to help you learn how to write a 7-page paper.