Being a professional academic assistance tutor with years of experience writing research papers, theses, and dissertations, I'm better placed to compare these Professional Plagiarism Checkers: Grammarly vs. Turnitin
Grammarly is an online writing assistant that helps its users to write mistake-free texts by checking grammar and spelling mistakes and plagiarism in their documents. Turnitin, on the other hand, is mostly used by academic institutions to promote academic integrity by checking for plagiarism ins students' papers. Turnitin also offers grading solutions to instructors and teachers.
The two premier plagiarism checkers are among my favorites, and as a Pro, no day ever goes without using both or either.
From my experience, Grammarly is far more popular as an online spelling and grammar checker and arguably the best at it. It's available as a Free version and a Pro version.
Yet, its prowess in checking content for plagiarism makes it a one-stop-shop and indeed an invaluable weapon in every professional writer's arsenal.
Also check: Does Turnitin detect pictures? 
As for Turnitin, this software packages itself as the best advocate of academic integrity. It comes with a built-in plagiarism checker called iThenticate whose exploits continue to earn more plaudits in plag-detection.
Besides detecting traces of plagiarism in scholarly works, Turnitin also excels as a grading tool and Revision Assistant.
---
How Grammarly Plagiarism Checker fares Compared to Turnitin
The battle for supremacy between Grammarly and Turnitin seemingly gets vicious as each software arms itself. And almost everywhere, from the leading Q&A platform (quora) to famous academic research sites such as ResearchGate and user forums, the debate rages on.
Grammarly of today is very, very different from that of a year or two ago, both in its interface and effectiveness. Ever since they revamped their algorithm, this plagiarism checker scans sentences with near-perfect accuracy, uncovering even the tiniest instances of grammar mistakes.
As a plagiarism-checker though, Grammarly Pro doesn't perform satisfactorily well that one can rely upon it in all forms of writing. This popular grammar mistakes checking tool banks on ProQuest, a massive online content database it recently collaborated with, to scan and compare traces of content.
Ideally, Grammarly runs content against 16 billion worth of pages on the internet, including academic resources and all types of content existing online. So revolutionized is this software that it can run in-depth checks against books and publications, including those that already exist as hard copies.
However, this anti-plagiarism software has a worthy competitor in Turnitin. It isn't a secret that the two are incomparable; Turnitin is far superior, clear, and effective. Simply put, despite Grammarly having access to such a giant database, its plagiarism checker doesn't match Turnitin's accuracy levels.
Also check: Can Turnitin be able to tell copy and paste?
---
Is Grammarly Plagiarism Checker as Good as Turnitin?
Grammarly plagiarism checker is not as good as Turnitin plagiarism checker as Turnitin is able to check for similarity in its own database (which Grammarly does not have access to) and the worldwide web.
The main difference between Grammarly and Turnitin is the accuracy and reliability of plag scans. Grammarly isn't a plagiarism-detection crawler-type tool like Turnitin. And patchwork plagiarism that can easily escape Grammarly's watchful eyes can never bypass Turnitin's perspicacity.
For example, if you were to run a rewritten essay for plagiarism on both tools, Grammarly would capture a negligible percentage of it, unlike Turnitin, whose algorithm is fool-proof. A 3% plag level on Grammarly could easily be 85% on Turnitin.
And the reasons are obvious; first, Grammarly majorly scans sentences, and a slight change automatically gives the paper a pass. Turnitin scans everything, including individual digits, letters, and symbols, and quickly spots similarities in words, phrases, or ideas, even in mathematical problems.
Also check: Is paraphrasing able to beat turnitin?
On top of that, Turnitin compares a text to a wide variety of resources, a feature that Grammarly lacks. The database extends far beyond Grammarly's ProQuest and includes several top universities across the world. A Turnitin report is often comprehensive and often highlights the percentage of plagiarized sentences, all the sources copied from, and the similar texts.
And so, it isn't a coincidence that Turnitin is the plagiarism checker on the market that most institutions prefer. It is safe and secure, very user-friendly, and highly trusted by universities worldwide, who also share their databases with it.
Turnitin algorithm is a lot more developed, too, and can't be fooled with ease. It can scan past papers against what a student submits on it for plagiarism, what Grammarly never does. The bottom-line, therefore, is that Turnitin is light-years ahead of Grammarly in plagiarism detection.
Is Grammarly Better than Turnitin?
Grammarly is not better than Turnitin in terms of checking plagiarism, as Turnitin is far more superior plagiarism checker. However, Grammarly is more superior in checking for grammatical mistakes.
Grammarly is arguably the world's most accurate grammar-checking software in the market today. This online spelling and grammar checker is browser-based but also comes as a plugin for Firefox and Chrome, a mobile app, and an extension installed in MS Word.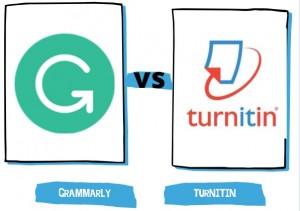 But Grammarly, compared to Turnitin, isn't better in checking academic papers for plagiarism. Turnitin is undoubtedly the best when it comes to checking documents for plagiarism.
It has more than 15,000 educational institutions using it and millions of students, tutors, professors, and various other professionals using it as their primary plagiarism checker.
Turnitin exclusively checks papers for plagiarism, and its entire interface says it all. It scans text for similarities between what it's fed with and what its extensive database has. It then displays the outcome in a Document Viewer with color-code parts indicating all the possible issues.
Turnitin's superiority over all the other tools stems from its vast repository, which now has over a billion student papers. This software used to serve as a cheaper, simpler, and more convenient alternative for academic institutions to check their students' works before the advent of the internet.
Also check: Does Turnitin check discussion posts?
With the internet, this resource search engine of plagiarism checking continuously crawls and indexes web pages for more profound plagiarism scans. It also has access to over 178 million journal articles and subscription content sources that no other site can reach.
The only area where Grammarly beats Turnitin is grammar-checking. That's because most of those who trust Grammarly use it to enhance their writing and produce flawless and grammar error-free scripts. They know that its anti-plagiarism feature isn't accurate enough.
---
Does Grammarly Check Turnitin
Grammarly does not check Turnitin since Grammarly does not have access to Turnitin's database. Grammarly currently has access to only ProQuest's database.
ProQuest is nothing compared to Turnitin's database, which encompasses archived student papers and more than 178 million journal articles and subscription content sources.
And while Grammarly is among the leading plagiarism checkers, its major drawback is its reliability.
First, Grammarly never has access to Turnitin's database. That automatically means it isn't the best plagiarism detection software available to check the research papers with.
Most of the journal articles and subscription content sources that Turnitin uses are vast and exclusive. Turnitin's repository itself is virtually under 'lock and key' and, thus, inaccessible to Grammarly.
Furthermore, all the 30+ prominent aggregators, databases, and content providers that Turnitin uses are not accessible to Grammarly. The only resource it does apply, therefore, is the ProQuest database.
---
Does Grammarly Affect Turnitin?
Grammarly never affects Turnitin, mostly because its repository is inaccessible for indexing by any plagiarism web crawlers. And so, Turnitin can never access and index documents contained in Grammarly the way it does with other web pages.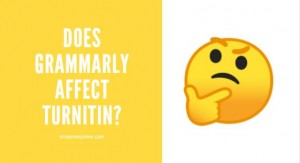 After checking a document on Grammarly, a copy of it usually remains in its database, visible to the user. Unless the user deletes it, the paper will be stored forever and available whenever needed.
However, that doesn't mean every document that remains is accessible to external plagiarism checkers like Turnitin.
It is essential to mention that Grammarly principally is a grammar checker with a 360-degree analysis of any text. It has a robust algorithm that scans every document uploaded, checking for grammar, spelling and punctuation, diction, and other common mistakes.
---
Is Grammarly plagiarism checker safe?
Grammarly is a safe and reliable plagiarism checker. You can use Grammarly to check plagiarism in a document before submitting and will generally stop you from submitting plagiarized work.
While it's hard to say that Grammarly is the best plagiarism checker today, the fact that it's reliable and can trace copied parts is excellent. In a final report, you get a similarity index indicating that your paper is unique and flawless and all copied parts have been rectified.
Plagiarism is a serious criminal offense in whatever form it's found. And since students, professors, and professional writers alike must stay clear of it, Grammarly can be among the best plagiarism checkers.
Grammarly alone is not safe. That's why many pros recommend it along with the more credible, college-approved software such as Turnitin. The two are independent of each other, and besides, Turnitin allows students to submit their work to their instructors with ease.
Check the video below that compares turnitin to other online plagiarism checkers including Grammarly