Turnitin is a web-based plagiarism detector developed in 1997 for educational purposes. Educational institutions including universities and colleges purchase a license to use their services. The web application seeks to protect academic integrity by ensuring students submit plagiarism-free work which is properly referenced.
In this blog we seek to answer the question does Turnitin check youtube videos or research papers bought online?
Read along.
---
How Turnitin works
Once a student submits their work, Turnitin will then match the text against internet documents, journals, publications, and periodicals and their repository of previously submitted works by other students who use Turnitin to submit their assignments.
The assignment will then be stored within their database. Once the matching process is completed, Turnitin will produce a similarity report which can then be used to determine whether a student's work is plagiarized or not.
Given our experience based on working with Turnitin ourselves, we answer frequently asked questions by students. We have asked our professors some of who have over 30 years experience teaching universities and colleges their input.
---
Can Turnitin Detect Youtube Videos?
Yes, Turnitin can detect plagiarism from a YouTube video when the content is directly copied from the description box.
However, this depends on where you get the content. It'll be detected as plagiarism by any expert plagiarism checking tool if it has been taken from the video description box. There is less possibility of detecting plagiarism if you take the text from the video subtitles.
There are contemporary advanced technologies that offer video scripts to a variety of YouTube videos. Turnitin can detect such scripts as having been plagiarized.
Can Turnitin Detect YouTube Transcripts?
Yes, if you can get transcripts from the YouTube description area chances are if you copy directly from the transcripts you will be flagged by Turnitin.
However, if the video has no transcript in the description area, Turnitin may be unable to flag you for plagiarism. This is due to the fact that Turnitin only reads texts to be able to determine similarity in a text.
Can Turnitin detect youtube subtitles?
No, Turnitin is unable to detect youtube subtitles since they are autogenerated. As such you can use subtitles to write your paper without having any worries.
---
Can Turnitin Check Audio?
No, the plagiarism detector is only limited to detecting plagiarism that's in the form of texts.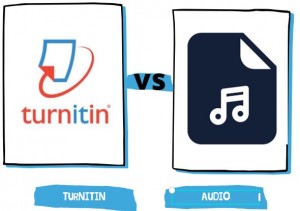 There is no known way to detect plagiarism in audio files. Turnitin can only detect plagiarism if you can extract texts of the audio transcripts if they are available online. So be sure to check whether the audio file has a transcript available online before using the information in your paper.
Otherwise, it would not be possible to compare the audio data with database information.
---
Does Turnitin Detect Paraphrasing?
Yes, Turnitin has developed a variety of methods to identify paraphrased and plagiarized content. With this, instructors of schools and colleges can happily check essays written by their students knowing that they're the ones who have written them. This way, students can enhance their writing prowess and learn how to write articles that are free from plagiarism.
However, this depends on the paraphrasing level, if it's less, it can capture minor word changes and the sentence structure. But, if you revise the entire thing, use distinct tenses, mix up the sentences, and change the vocabulary, then Turnitin cannot detect plagiarism.
Also see: Can Paraphrasing Beat Turnitin?
---
Does Turnitin Detect Previously Submitted Work?
Yes, Turnitin will detect it as plagiarized. Like many other detection tools, Turnitin works at the sphere of academic honesty; it develops algorithms and processes to handle such types of cheating. Schools and universities usually have private databases and libraries where all the relegated documents are saved.
Student papers submitted via Turnitin are usually saved in the repository. As such, any attempts to submit previously submitted work will have you flagged for plagiarism.
Also check: Does Turnitin Check Other Students' Papers?
---
Does Turnitin Detect Quilbot?
Yes, the Turnitin software can tackle several tricks. Quillbot attempts to paraphrase work using synonyms which Turnitin can easily detect.
After all, quillbot isn't the only paraphrasing tool that Turnitin can detect; it can recognize more paraphrasing software.
Quillbot is a tool for paraphrasing that makes use of machine learning to rephrase and change the organization of a sentence or paragraph. You're only required to right-click a sentence and press "Launch Quillbot" to reword the sentence. Then you can edit the output on the side panel and enter it into your document.
---
Can Turnitin Check Text in an Image?
No, currently Turnitin cannot detect text from an image. It is also important to note that Turnitin cannot determine image files' originality. Originality files can only be produced for chosen text-based files such as PDF with text, HTML, RTF, Word, and text.
If you require an originality report, you must make sure that "Allow Only File Types" that Turnitin can inspect for originality is checked.
Does Turnitin Read Screenshots?
No, Turnitin "currently" doesn't support image upload because the correct text from an image cannot be recognized. Optical Character Recognition (OCR) is currently under development. Currently, there are not so many apps that can establish the identity of characters correctly from an image. Therefore, Turnitin simply deactivates the upload of image PDFs.
Plagiarism detectors such as Turnitin essentially compare text files to ascertain the similarity of one text to the other. For Turnitin to check and recognize something, it must be visible through its algorithm. If something cannot be highlighted, therefore, Turnitin will not detect it.
---
Can Turnitin Detect Essays Bought Online?
No, Turnitin cannot discover essays purchased online if they are original and written from scratch. Turnitin plagiarism checker cannot tell if the paper was bought online if it has been written from scratch.
Having this in mind, ensure that you always purchase your papers from reputable companies (and those who have their software to check plagiarism). And where possible, purchase an essay only for individual revision purposes.
NB: Essaysanytime is a reputable essay writing company that you can count on for all your essay writing, term paper writing and research paper writing needs. Supervised by retired and active college professors in the US, our writers are able to write papers from scratch and as such provide plagiarism-free papers.
---
Bottom Line
Turnitin checks originality and stops plagiarism. It examines your writing for citation errors or unsuitable copying. When you relegate your paper or document, Turnitin will compare it to the text in its extensive database of websites, articles, books, student work, and many more.
We find students asking: Can Turnitin Detect Youtube Videos, can Turnitin detect youtube transcripts, can Turnitin detect youtube subtitles, can Turnitin check audio, does Turnitin detect paraphrasing, does Turnitin detect previously submitted work, does Turnitin detect quillbot, can Turnitin check text in an image, does Turnitin read screenshots, does Turnitin detect essays bought online and we answer those questions in this write-up.
Turnitin is incorporated into the Assignment Tool in all classrooms that are online and managed by Classroom Support. This implies that a document will be automatically sent through Turnitin's repository when you upload it to the classroom for rating. The Similarity Report produced helps establish possible cases of plagiarism.